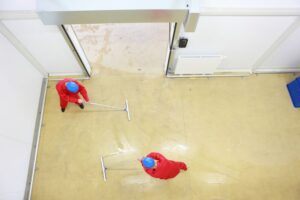 No matter your industry, there is always the risk of workplace injury or illness. From heavy metals to excessive noise, there are a wide variety of environmental conditions that could harm your employees. Industrial hygiene is meant to find, resolve, and prevent these kinds of dangerous conditions. Read on to learn more:
What is industrial hygiene?
According to the Occupational Safety and Health Administration (OSHA), industrial hygiene is defined as "that science and art devoted to the anticipation, recognition, evaluation, and control of those environmental factors or stresses arising in or from the workplace, which may cause sickness, impaired health and well-being, or significant discomfort among workers or among the citizens of the community." To put it more simply, industrial hygiene is the practice of identifying, resolving, and preventing dangerous workplace conditions.
What kinds of issues does an industrial hygienist work with?
OSHA's definition of industrial hygiene could cover many scenarios. And industrial hygienists certainly deal with many issues. Below are just some of the many healthy and safety issues that industrial hygienists must contend with daily:
Radiation
Bacteria and mold
Heavy metals
Corrosives
Lighting
Noise
VOCs
PAHs
PCBs
Pesticides
Silica
Solvents
Radon
Lead
And more
Why is industrial hygiene important?
We all want our workers and nearby civilians to stay safe and healthy. However, that can be difficult to ensure without taking the proper steps. By bringing in an industrial hygienist, you can be made aware of any environmental condition that may be posing a threat to workers and civilians. Not only that, but you will also be given steps to alleviate the issue. The result is a healthier, safer workplace for everyone involved.
Axiom Service Professionals offers industrial hygiene services for all businesses in the Kansas City, MO, area. Contact us today to learn more!